Malopolska Wies Map v1.0 for FS 17
Author:
admin
| Date: 22-09-2018, 14:19 |
Views:
316 |
Comments:
0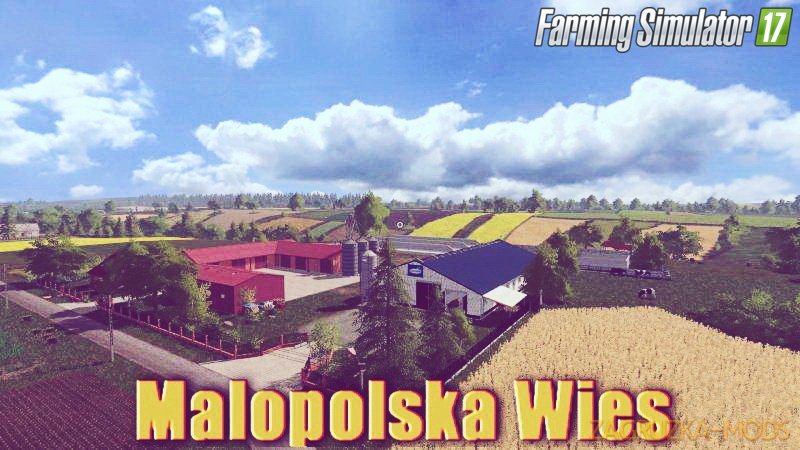 Description about Malopolska Wies Map v1.0 for FS 17:
Malopolska Wies Map v1.0 for Farming Simulator 17 game. 
A great addition added to the game Farming Simulator 17 is Malopolska Wies Map v1.5.x game version, which can be downloaded for free and without registration. You can also see other fashion from the category Maps for Farming Simulator 17 or go to the main section FS 17 games. 
Hey ! I present to you my first map: Małopolska Village
The map is large, occupies the entire possible area, the map is superficially depicting the village of Czaniec from Podbeskidzie. The map lasted from March to mid-September.
The map has:
- 4 farms of various sizes
- Cows
- Pigs
- Sheep
- Chickens
- 236 fields (bought)
- 12 meadows (purchased)
- the ability to remove stones, trees and bushes from field boundaries
- the possibility of changing the straw in manure (in SKR and in the house)
- 1 large forest and a few smaller copses
- Sawmill
- Plank factory (boards sold in sawmill)
- Soy milk factory (we sell milk in SKR)
- Purchase of straw and hay
- 2 purchase of collections
- SKR / PGR operating as a biogas plant (we make silage there and sell it in a cowshed)
- Gates and gates open to the button
- Lights lit up on the button
- Mod chop
- Soil texture 360 / multiterrain
- real sky
- real mud
- Oats and Rye
- car traffic
- Interesting, heavily diversified area
- Climate of Podbeskidzie
- The map is fully compatible with Seasons
I hope that the map will appeal to you: D
The map can be used for other forums, but only with the original link and the author's application
Tested on game version 1.5.x
Share / Download Malopolska Wies Map v1.0 for FS 17:
Vkontakte
Facebook
Тwitter
Pinterest