Ultra Exterior Lighting v1.02 for Fallout 4
Author:
Zagruzka
| Date: 4-11-2019, 23:58 |
Views:
588 |
Comments:
0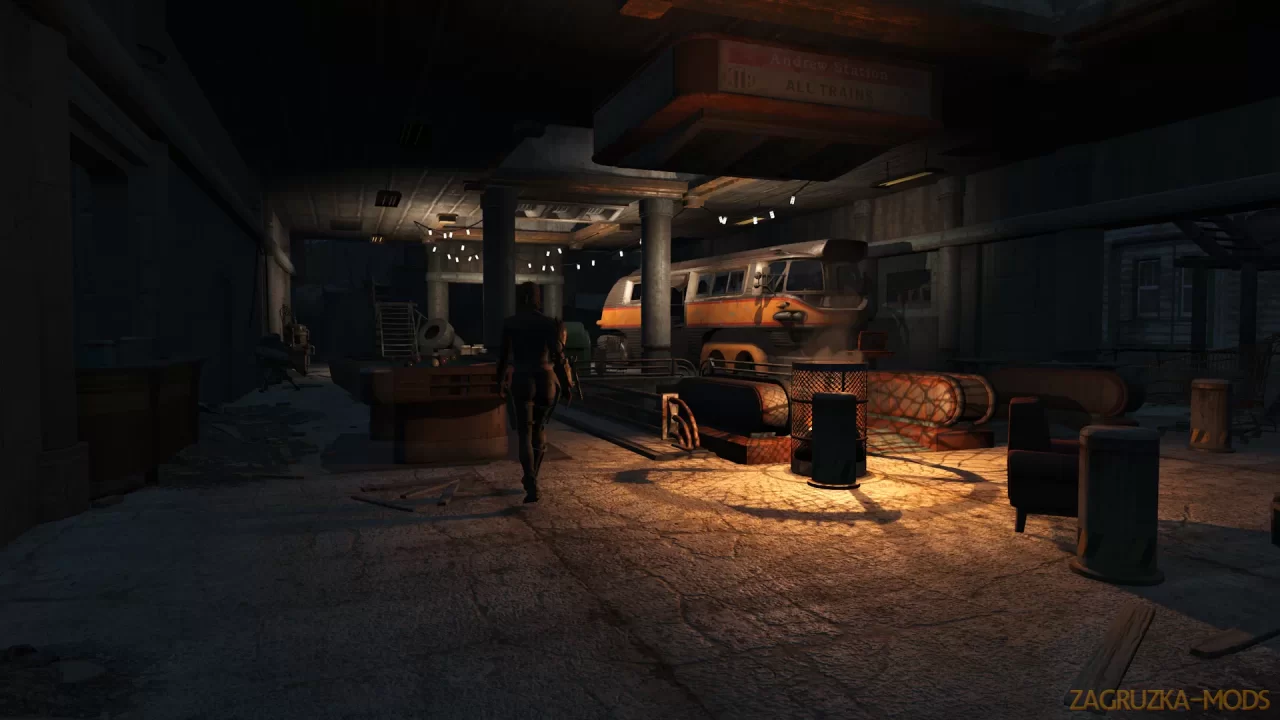 Description about « Ultra Exterior Lighting v1.02 for Fallout 4: »
Download mod Ultra Exterior Lighting v1.02 for Fallout 4 game.
This mod adds shadow cast lights to many of the physical light sources in the Fallout 4 exterior world including Far Harbor and Nukaworld. There has also been vast improvements made to the general lighting associated with physical lights sources bring you a vastly more immersive exterior lighting.    
This mod adds over 1500 shadow cast lights to physical lights in the Fallout 4 world including the Commonwealth, Far Harbor and Nuka World and generally improves all the lighting associated with physical lights including the ambient and reflective lighting bringing you a vastly improved lighting experience from what you encounter in the vanilla game.
Almost all the new shadow casts lights use a trigger box that swaps them to there non-shadow cast version at X distance from player depending on the location and other factors.
The use of trigger lights allows for better distance lighting and helps improve the performance by not having shadows rendered where there not really visible or at too far a distance to be visually noticeable.  
    … Reworked the lighting on the 4 fire mesh barrels outside Fallon's Department store and added shadow cast.
    … Reworked the lighting on the 2 fire mesh barrels at Fens Evan's Way Cul-de-Sac and added shadow cast, also added shadow cast to the oil lamp inside the room with the broken wall.
    … Shadow spotlight added to the emergency light on the red house at the western edge of Prospect Park.
    … Added shadow light to the oil lamp near the weapons workbench in the room near the Cambridge Construction site and corrected light shining through wall.
    … Reworked the lighting at the Cabot House courtyard (difficult area) and added small radius shadow cast to the lamp posts.
    … Added shadow cast to the hanging lights at Shenley's Oyster bar raider camp.
    … Fixed the shadow cast not working on the burning tyres at the Charles View amphitheatre.
    … Fixed the two over bright fire barrel lights near the Cambridge Construction Site.
    … Added shadow cast light to the mesh fire barrel in Christopher Columbus Park.
    … Two more shadow cast lights added at Camp Kendall.
This mod does not change any environmental lighting like weathers and weather image spaces and does not touch any vanilla settlement lights - settlements will be covered in an add-on for the mod at a later date.
This mod does not and will not add shadow lights to all physical light sources in the game to do so would kill performance in some locations on even the best machines.
The mod does not break any pre-combines or pre-vis and has been thoroughly cleaned using FO4edit.
Performance will vary from system to system, please bare in mind that the mod brings many shadow casting lights to the exterior Fallout 4 world. Those with weak systems or those wishing only for performance over visuals should consider not using this mod but the choice is yours!
You may or may not occasionally see the flicking of the lights as they swap from non-shadow cast to shadow cast and vice-versa. I have done my best to ensure this issue is not very noticeable but having them swap is a far better option then not both for performance and visual reasons.

This mod requires the Nuka World, Far Harbor, Vault-Tec Workshop and the Automatron DLC's. There will not be a non-DLC version so please do not ask!
Install as usual with Vortex or simple extract the archive into your Fallot 4 Data folder!
Please ensure that the loose files are installed correctly and are not overwriiten by some other mod as they are necessary for some of the lights to look correct. Users of the Ultra Interior Lighting mod can simply just overwrite that mods loose assets as they are the same with this mod.
If you really must uninstall this mod then please save your game in an interior cell before doing say. This is not absolutely necessary but any triggered lights will remain until you exit the area if you do not! 
Bethesda and everyone here at Nexusmods that have inspired me to continue work on this mod!
The creators of
FO4Edit 
for there amazing tool, this mod would not exist without it.
Share / Download Ultra Exterior Lighting v1.02 for Fallout 4: