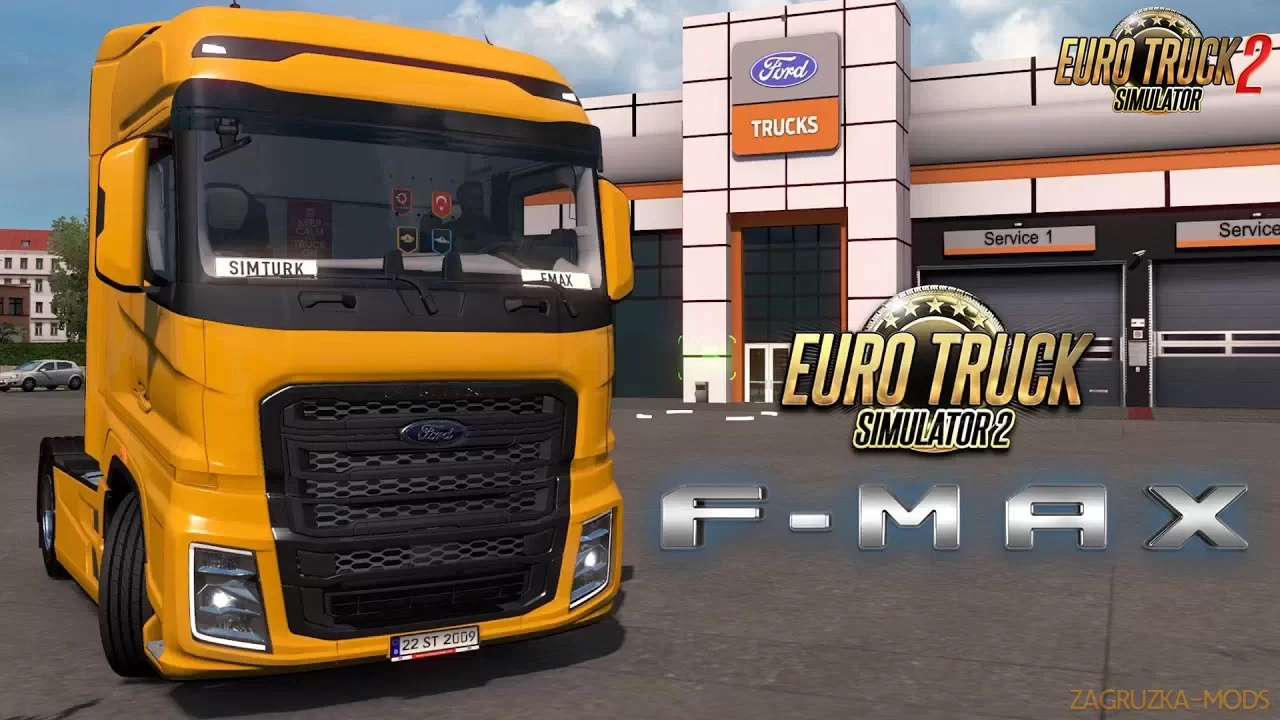 Download mod Ford Trucks F-MAX v1.6 (1.36.x) for ETS 2 | Euro Truck Simulator 2 game.
A great addition added to the game Euro Truck Simulator 2 is Truck Ford Trucks F-MAX for 1.36.x game version, which can be downloaded for free and without registration. You can also see other fashion from the category Trucks for Euro Truck Simulator 2 or go to the main section ETS 2 mods.
This is the introductory page of the Ford Trucks F-MAX truck mod developed for Euro Truck Simulator 2. The F-MAX truck is modeled from scratch in full detail, faithful to the actual model. It will be shared as a free mod for ETS 2. Developed by experienced model designers and mod makers Emre Aydın and Bertan Baday, F-MAX truck mod published by SimülasyonTÜRK. You can find all the details on this page.
In addition to the F-MAX truck mod, you will be able to purchase trucks from Ford Trucks dealer. The Ford Trucks dealer is located in Berlin on the base map of the ETS2

What is F-MAX mod?

What are the Ford Trucks dealer and test area?

More FAQ Answers
---

The project in three words!
- Volunteer
- Detailed
- Free
---
Features Mod Ford Trucks F-MAX:
Original F-MAX Interior and Exterior
FORD Trucks Dealer (in Berlin and optional)
Original Dashboard
Original Sounds (Ford Cargo 1842T from EngineVoiceRecords)
Standalone Modding
Animated Handbrake
Animated Pedals
Support for Cabin Accessories
Support for SiSL Mega Pack
Cabin lights(blue)
Skin Template
Compatible with standard game features
Compatible Game Version: 1.36.x, 1.35.x
4×2 Normal and LL Chassis
EcoTorq 12.7L Engine
500 PS engine, 2500 Nm torq
ZF 12TX2620 Gearbox
Changeable Front Grill(Black or White)
600L Main Fuel Tank + 450L Extra Fuel Tank (Optional)
GPS Navigation
Orginal catalog color
Support for Turkish Paint Jobs Pack DLC
Support for Window Flag DLC
Truck of the Year Paint Job
FIA European Truck Championship Paint Jobs
Support for European Logistics Companies Paint Jobs Pack (Mod)
Side Skirt
Adjustable Spoiler (Low(standard), Low 2, High, Very High, Mid High)
Customizable Sunshield
Animated Mudflaps (optional)
Different screens for navigation (standart, small gps, multimedia)
Top bar for lighting
Realistic license plate(SCS Software or Custom)
You can buy from Mod Dealer
You can choice on Quick Jobs
You can start a new profile with this truck.
---
- Serbian Locales
- Support for "Signs on your truck" mod
- Temporary inaccurate solution for Instant Fuel Consumption screen.
---
Please! Do not reupload. 
Please use this website (fmax.simulasyonturk.com) in your video or post.
---
Publisher: @simulation Hasan Elmaz Öfke – SimülasyonTÜRK
Modelling and Textures: Bertan Baday @bertan06, Emre Aydın @Hardoux)
Convert to game: Emre Aydın
Dashboard: @Oscar
Sounds: Engine Voice Records (enginevoicerecords.com) @Vasily EVR
Sound record and photos for Real F-MAX: @OnurKull
Photos for Real F-MAX: @Eugene
Support for SiSL's Mega Pack and very special thanks: @SiSL (Selçuk İslamoğlu)
Catalog Colors, FIA ETRC, Truck of the Year Paint Jobs: OnurKull
Support for Turkish Paint Jobs Pack DLC: BlackMoon (BM Logistics)
Support for European Logistics Companies Paint Jobs Pack: Ahmet Soydan (SinagritBaba) @Sinagrit_Baba
Closed Beta Testers:OnurKull, BlackMoon, Süleyman Fahri Kurt(SFK),Ahmet Soydan (SinagritBaba), Özkan Poyrazoğlu (feelgoodinc)
---
Tested on game version 1.36.x