Great America Map v1.1 (1.36.x) for ATS
Author:
admin
| 24-01-2020, 12:55 |
Views:
544 |
Comments:
1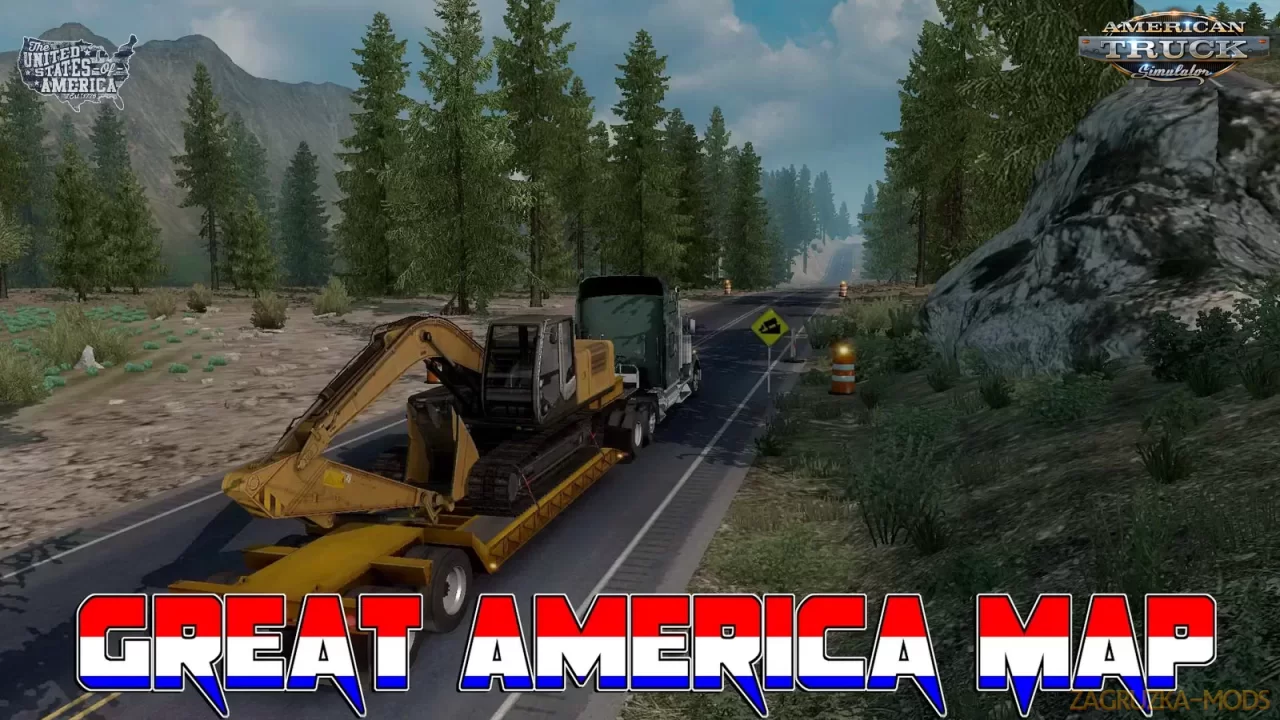 Download mod Great America Map v1.1 (1.36.x) for ATS | American Truck Simulator game.
A great addition added to the game American Truck Simulator is 
Mod
Great America Map
for 1.36.x game version, which can be downloaded for free and without registration. You can also see other maps from the category Maps for American Truck Simulator or go to the main section ATS mods.
Great America Map - new high quality map with beautifull landscapes, scenery, roads, AI traffic and much more added to ATS game. This is the first release, so we expect more updated and new improvements to be added in the map.
---
---
Note from the author:
Hi guys ım so happy to starting this usa map project,ı was planning this project before utah dlc but today ı start finally,in real life ım survey engineer(or map or geomatics its doesnt matter) so maps are parts of my job alltime,ı make this project because we dont have good map project in ats, ı start in washington road 2,spokane to sandpoint and sandpoint is done ı really workin hard and watchin all details
curves,slopes,atmosphere,land,visions,fps,heights,signs,nature,uphill,downhill(ım using landsat and usa ıtrf land height model) version 1.0
is just preview for you ıts add only 100 km sandpoint road and sandpoint town but next update ı fully complete middle and
north idaho ı dont wanna poor quality mod ,ı take same fps those utah in my pc,this mod optized for all pcs tree sparsity,number of models view distance...
I share in game ss for idea
- İDAHO İS DONE.
- Boise,Twin falls,İdaho falls,Mccall,Stanley added.
- Now total 1300 km(750 mile)road and 10 city added in İDAHO.
- Some floatin objects fixed.
- New signs added.
- Jackpot and ontario road connections added.
- Riggins timberharvest road fixed.
- NOW GREAT AMERİCA WORK WİTH ALL MAPS AND COMBOS ım giving load order below.
(ı touch south idaho next update again roads need some cosmetics)
(Im using some city plans of mantrid in this version)
Tested on game version 1.36.x
Share / Download mod «Great America Map v1.1 (1.36.x) for ATS»
---
---
Download: mega_resources_great_america_patch_v1.zip | Size: [13.83 Kb] | Downloads: 3
Download Links – Policy & Disclaimer
This document refers to links to third-party content/website, from both our website(s) and our official Social Media pages. External links are selected and reviewed when a page/post is published. However, we are not responsible for the content of external websites. If you would like us to remove a link to your website from NHS Choices, please Contact us (Admin) Note that unless you have a legal right to demand removal, such removal will be at our discretion.