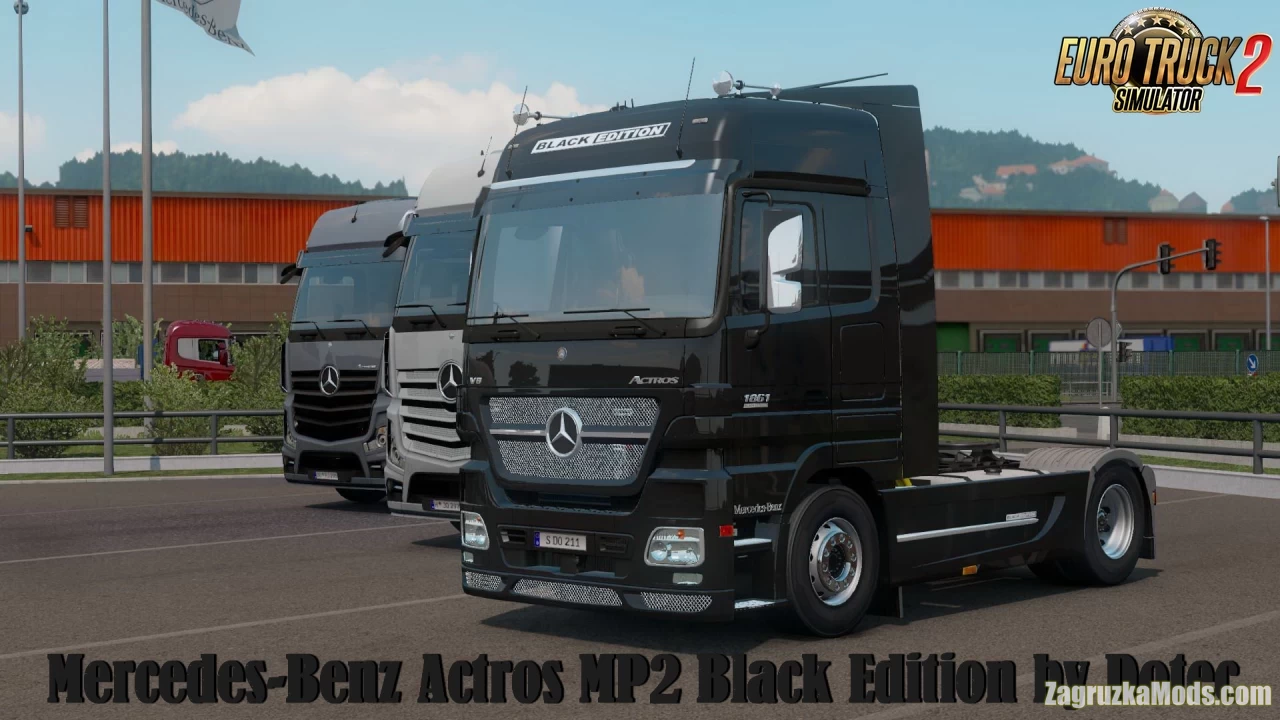 Last edited by: admin - 2-01-2021, 20:50
Reason: Mod Updated to v1.2
Download mod truck Mercedes-Benz Actros MP2 Black Edition v1.2 by Dotec (1.39.x) for ETS2 | Euro Truck Simulator 2 game.
A great addition added to the game Euro Truck Simulator 2 is Mod Mercedes-Benz Actros MP2 Black Edition for 1.39.x game version, which can be downloaded for free and without registration. You can also see other fashion from the category Trucks for Euro Truck Simulator or go to the main section ETS 2 mods.
---
Mercedes-Benz Actros MP2 - The dream of every driver: the Actros BlackEdition 1861. In 2004, Mercedes-Benz brought this limited edition of 250 trucks onto the European market, with 100 of those being delivered in Germany. A single glance is enough and it is immediately clear to any observer even today: this truck is pure power. But, it's not only the strength of the Actros which is captivating, the comfortable MegaSpace cab with the distinctive star on the two-section radiator grille is particularly impressive. Shining chrome, the polished Alcoa wheel rims shimmer in the light and the words "BlackEdition" are resplendent in silver writing on black paint above the windscreen.
---
Features Mercedes-Benz Actros MP2:
- independent truck model 
- High quality 3D model 
- High quality detailed exterior 
- High quality detailed interior 
- the model has own interior
- the model has own sound 
- the model has own wheels
- the model has passanger seat
- the character is correctly sitting in the driver's seat 
- the choice of engine power 
- the choice of transmission and gearbox 
- the choice of wheels configuration
- the choice of interiors
- choice of color body / metallic paint
- correct position of the Mercedes logo 
- present the illumination of arrow speedometer and tachometer 
- Working headlights, brake lights, tail lights, front and rear turn signals, steering wheel and reverse signals 
- working lights
- The correct position of the player 
- There are external tuning
- Cabin Accessories support
- Supports all major functions of the game
- buy in Mercedes dealer 
Changes in v1.2:


- added air conditioner
- added bed
- added fire extinguisher
- reworked mercedes emblem
- fixed dashboard
- added lightbar
- reworked showroom icons
- added dlc flags
- reworked skin-template 
- added retarder animation in interior
- added 1800* steering wheel support (instructions at first post)
- added the new seats  
Tested on game version 1.39.x