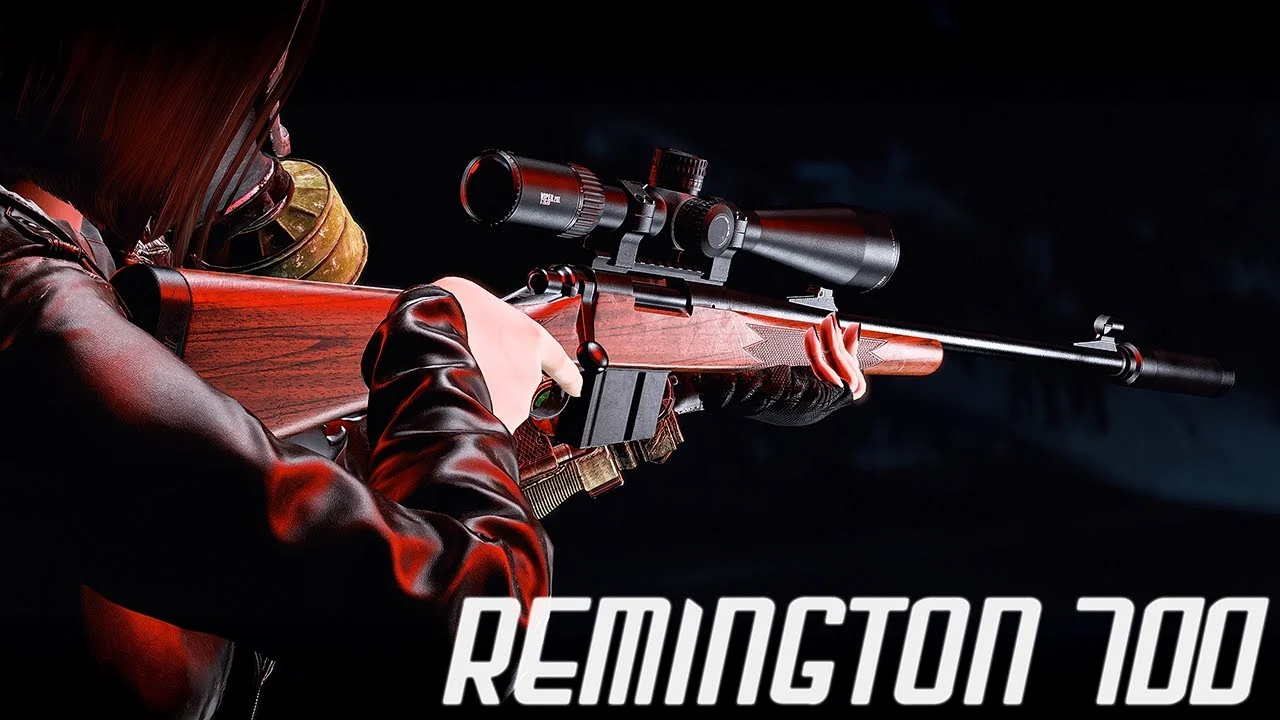 Download mod Remington Model 700 Weapon v1.0 for Fallout 4 game.
Remington Model 700 - is a very well known bolt-action rifle and real-life counterpart of the vanilla Hunting rifle. Its reliability and versatility ensured its dominance on the market - both civilian and military - for a very long time, since 1962 and still kicking. It can be classic good old hunting rifle or modern top-of-the-line sniper weapon system, and I tried to reflect its versatility in this mod.
Features Remington Model 700:
- 2 Receivers - Standard Remington and Custom Deviant - affect handling speed;
- 4 Stocks - Factory (standard issue Remington), Hunter (Magpul Hunter 700), Military (M24), Tactical (AB Arms MOD.X Gen3 chassis) - affect AP cost;
- 6 Pistol grips (Tactical stock only) - Colt A2, Magpul MOE, Magpul MIAD, Hogue Overmolded, Tactical Dynamics Skeletal, Tyrant Designs MOD;
- 5 Buttstocks (Tactical stock only) - MFT Milimalist, Magpul CTR, Daniel Defense Mil-Spec, B5 SOPMOD, Vltor IMOD;
- 6 Barrels - 22" Standard, 22" Threaded muzzle, 18" Threaded muzzle, 26" Reinforced, 20" VTR with built-in compensator, 18" Integrally suppressed - affect AP cost and range;
- 9 Ammunitions - .308 Win, .243 Win, .260 Rem, 6.5 Creedmoor, 7mm-08 Rem, 7.62x51 NATO, .30-06 Sprg, .300 WM, .338 LM - affect damage, range, recoil, accuracy;
- 6 Muzzles - Muzzle protector, Muzzle Brake, Howitzer Muzzle Brake, AAC Suppressor, DTSS Suppressor, Banish 30 Gold Suppressor - affect recoil;
- 2 Mags - Standard 5-round, Magpul PMAG 10-round;
- 13 Sights - Ironsights (22" barrel only), MBUS BUIS (Tactical stock only), ACOG, Aimpoint PRO, EOTech EXPS3, Holosun HS510C, Trijicon RX01, Nightforce ATACR, Vortex Strike Eagle, Vortex Viper, Armasight Nemesis, Trijicon Reap-IR. All scopes have both vanilla and see-through versions;
- 4 Attachments (Tactical stock only) - SureFire M300C flashlight, SureFire M600 flashlight, Pinty Green laser sight, MAWL C1 laser sight;
- 23 Skins - 3 for Factory stock (Wood, Polymer Soft, Polymer Textured), 3 for Hunter stock (BLK, FDE, OD), 6 for Military stock (BLK, Desert, Multicam black, OD Green, Arctic, Woodland), 8 for Tactical stock (BLK, FDE, OD, Arctic, Desert, Multicam black, Urban digital, Woodland), 3 for all main metal parts (Powder coated, Blued, Bare brushed);
- 1 MCM Hotkey - for controlling the scope - switch magnification for most scopes, toggle night vision and built-in ironsights for Armasight Nemesis.
Tested on game version

v1.10.163+
---
This document refers to links to third-party content/website, from both our website(s) and our official Social Media pages. External links are selected and reviewed when a page/post is published. However, we are not responsible for the content of external websites. If you would like us to remove a link to your website from NHS Choices, please Contact us (Admin) Note that unless you have a legal right to demand removal, such removal will be at our discretion.