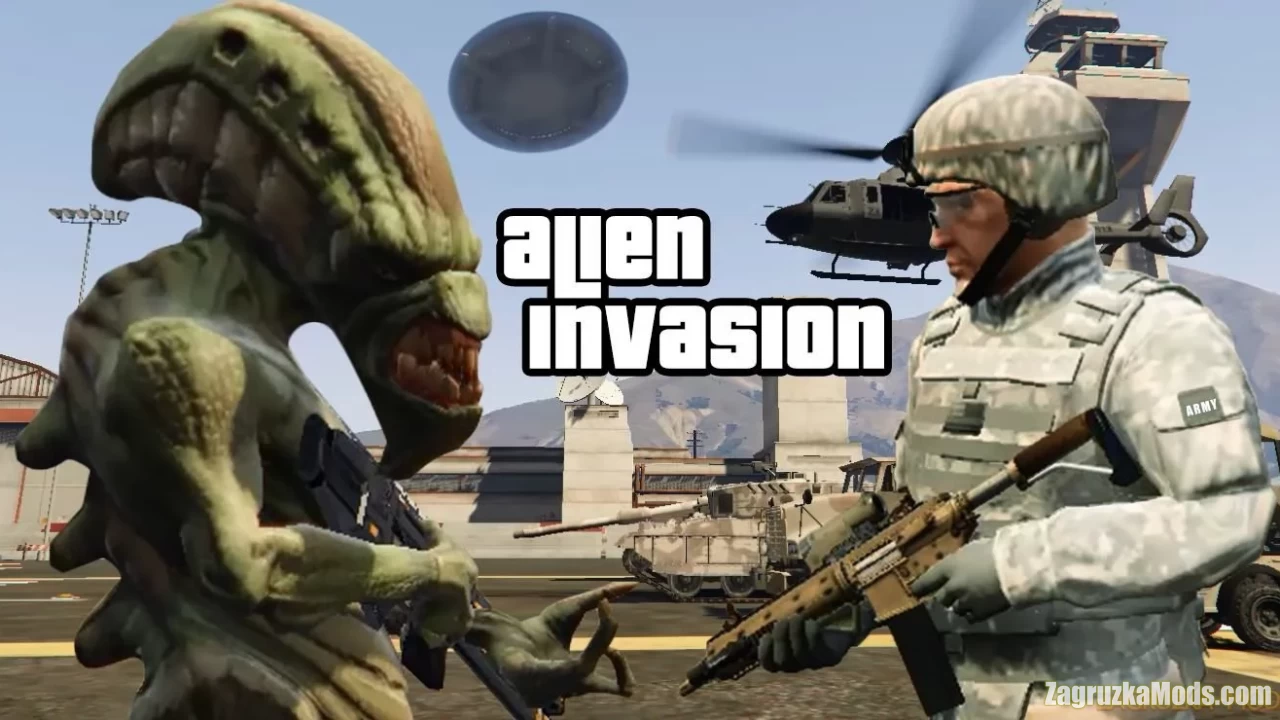 Last edited by: Zagruzka - 6-07-2021, 22:27
Reason: Mod Updated to v3.0
Download mod Alien Invasion War Mod v3.0 for GTA 5 | Grand Theft Auto V game.
Alien Invasion
-
 script mod will allow you to repel the UFO invasion of Los Santos.
You have to take part in a full-scale war against alien creatures, using absolutely all military equipment and the help of the military themselves.
To open the modification menu, press the B key on the keyboard.
- Alien vs. Army
- A Super Crazy War
- Scoring System
[Bug fix] 
- An issue that caused the script to crash.
- Aliens can speak the language of the earth. :(
- An issue that caused fewer and fewer units.
- Blips display error after helicopter landing.
- Several other bugs.
[Optimization and improvement] 
- Improve script stability.
- Rewrite spawning units mechanism.
- Rewrite mechanism for handling dead bodies and wreckage.
- Aliens can use laser weapons and Up-n-Atomizer.
- Add more vehicles to army(akula, hunter, barrage, halftrack, khanjali, scarab, vetir, nightshark, winky, squaddie, verus, zhaba).
- Add Mk2 weapons to army.
- Add more vehicles to Police(police, police2, police4, policet, riot2, sheriff2).
- The officers will wear body armor.
- Add FIB response unit.
- Add FIB SWAT response unit.
- Add Mercenary response unit.
- Change the Blips of police units to distinguish them from military units.
- Adjust Fire rate of Juggernauts and aliens.
- APC with the SAM Battery will attack ufo.
- A Juggernaut without Helmet can be shot in the head.
- The helicopter will fly more smoothly after the player enters the vehicle.
- Hunter will use missiles to attack aliens.
- When all the attackers on the helicopter die, the pilot will fly away from the battlefield.
- Changed Menu font.
[Function]
- Allow to change the alien's model in the ini file.
- Allow to change and add military model in ini file.
- Bodyguard function returns.
- Allow player to join one side.
- After joining one side, the player's blood will be removed automatically when his body armor is full.
- Add Wanted criminals function, allowing military units to actively pursue criminals.
- When the player is in a vehicle, the position of the alien will be highlighted for easy aiming.
- Teleport function, Teleport the player directly below the UFO for escaping.
Tested on game version v1.50+
---
---
This document refers to links to third-party content/website, from both our website(s) and our official Social Media pages. External links are selected and reviewed when a page/post is published. However, we are not responsible for the content of external websites. If you would like us to remove a link to your website from NHS Choices, please Contact us (Admin) Note that unless you have a legal right to demand removal, such removal will be at our discretion.