Simple Menu (Cheat Mode) v44.2 for Cyberpunk 2077
Author:
admin
| 14-04-2022, 14:23 |
Views:
2 674 |
Comments:
0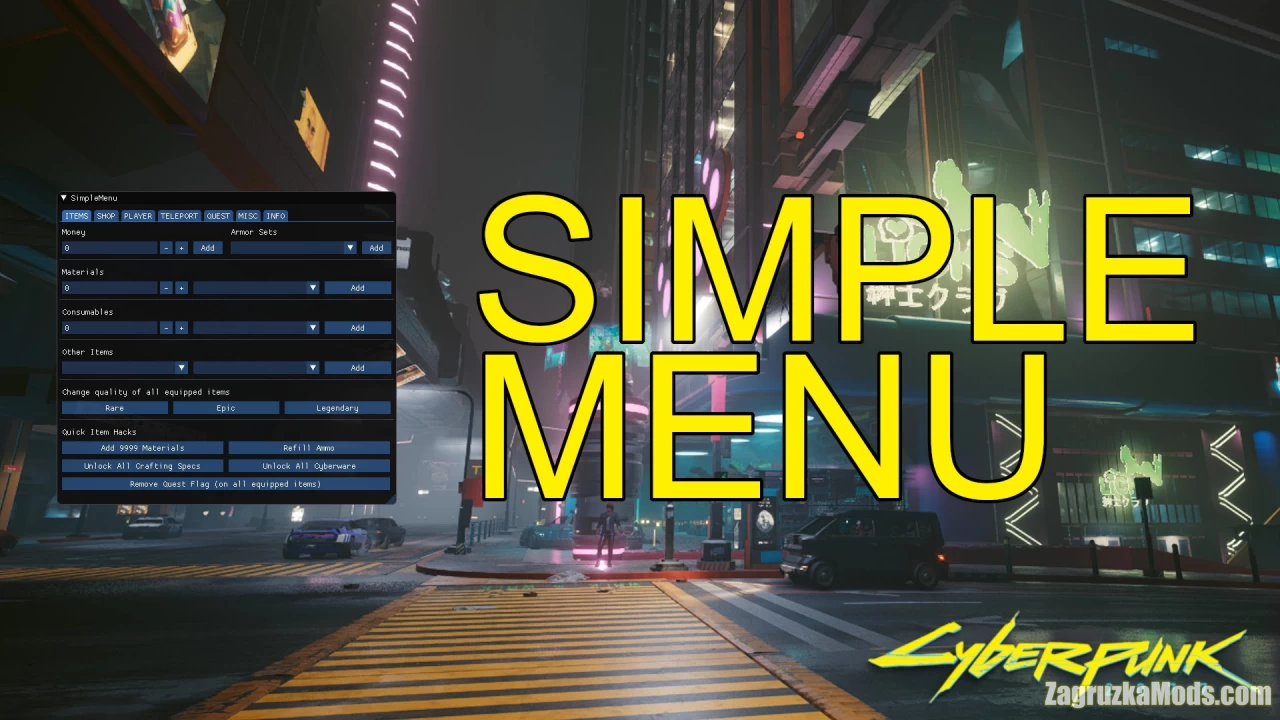 Category
-
Cyberpunk 2077 Mods
Credits: - Dank Rafft
Last edited by: Zagruzka - 14-04-2022, 14:23
Reason: Mod Updated to v44.2
Download Simple Menu (Cheat Mode) v44.2 for Cyberpunk 2077 game.
Simple Menu
- a
 user interface that allows you to run multiple utility functions at the touch of a button
. Also includes hotkey functionality. 
Features Simple Menu (Cheat Mode):
Items Tab
- Refill Ammo
- Unequip all equipped items (armour, weapons and cyberware)
- Remove quest tags from equipped items so that they can be dismantled and sold
- Upgrade equipped items and Clothes/Cyberware/Weapon Mods and Scopes in your inventory to Uncommon, Rare, Epic or Legendary
- Add Money and Consumables
- Add Armor (Sets), Armor Mods , Weapons, Weapon Attachments and Weapon Mods
- Add Cyberware and Cyberware Mods
- Add quickhacks
- Add materials and crafting recipes/specs
- Convert Drinks and Food; Sell Alcohol, Drinks, Food, Grenades and/or Junk; Disassemble Junk
Player Tab
- Max out your Level, Street Cred and Attributes or Reset Attributes, Perks and Skills
- Change Attributes
- Add Attribute and Perk Points
- Alter Other Stats (temporary): Armor, Carry Capacity, Crit Chance and Damage, Health, etc.
- Add or remove specific perks
- Add Experience: Player Experience, Street Cred Experience and Skill Experience
- Change Levels: Player Level, Street Cred Level and Skill Level
Travel Tab
- Save current position and teleport back to saved location
- Custom Teleport Locations
- Unlock Vehicles (either single ones or all of them) and Instant Vehicle Spawn
Quest Tab
- End Quest
- Untrack active quest
- Romances: disable or enable Judy and Kerry
- Quest Facts: Fingers, Jackie, Johnny, Other NPCs and Skippy
Misc Tab
- Unlock Achievements
- Kill NPC
- Toggle Slow Motion
- Infinite Stamina
- God Mode
- Police System options
- Fixed Ninjutsu modification and Reset All function;
- added support for the latest game
patch 1.5
Tested on game version v1.5
Download File: simple-menu-cheat-mode-v44_2.7z | (downloads: 14) | [24.48 Kb]