Diesel Locomotive DB BR 361 v1.0 for TS 2017
Author:
admin
| 24-01-2017, 14:47 |
Views:
7 950 |
Comments:
1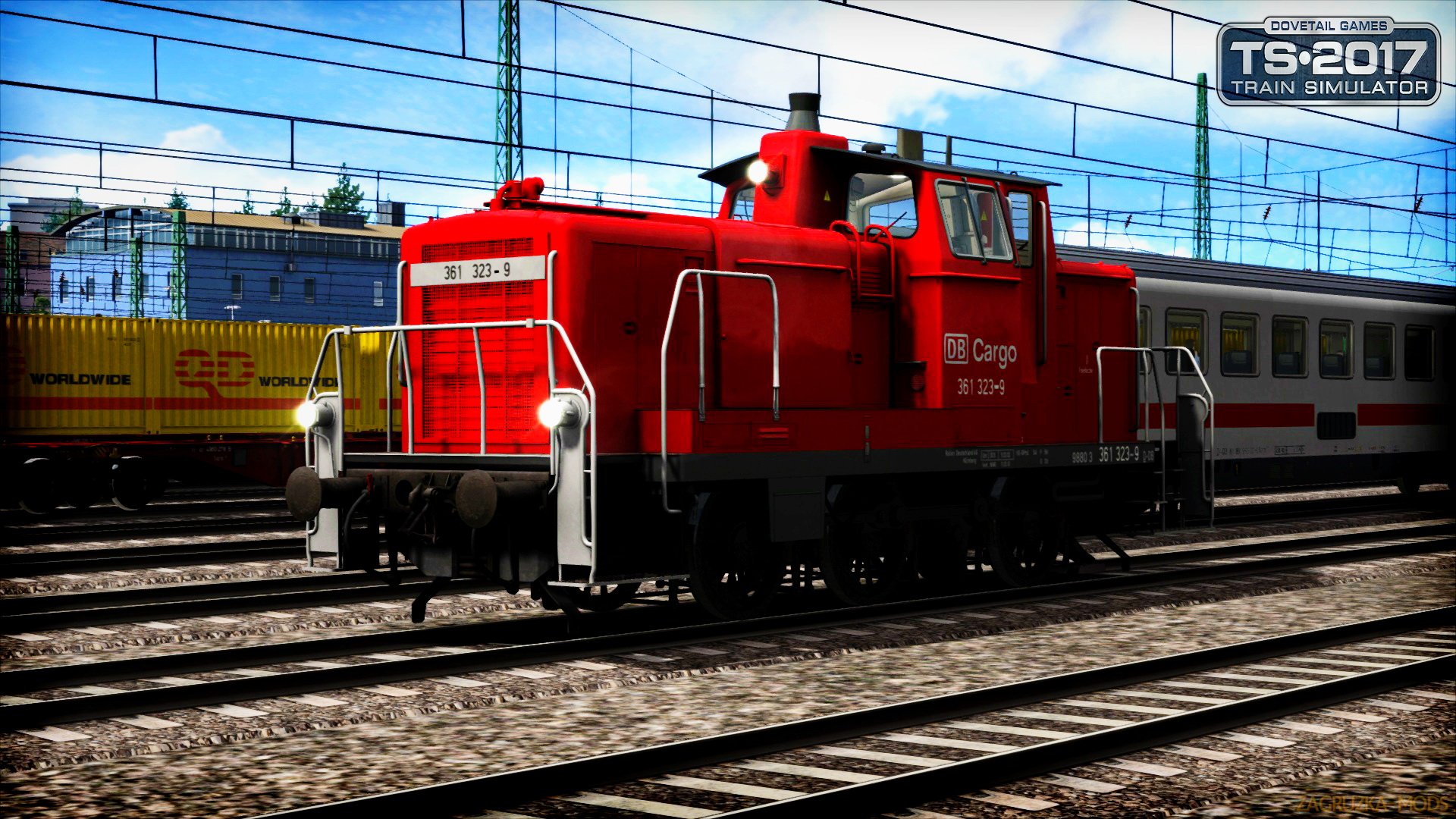 Category
-
Locomotives Train Simulator
Credits: - Dovetail Games
Diesel Locomotive DB BR 361 v1.0 for Train Simulator 2017 game.
The diminutive DB BR 361 packs a punch when it comes to serious pulling power, and is now available for shunting duties on Germany's rail network in Train Simulator.

Built between 1956 and 1964, the BR 361 (originally classified as V 60) is a diesel locomotive designed for shunting duties and the occasional light goods train for Deutsche Bundesbahn. In total, 942 of these shunters were produced, with several modifications through their lifetime including new engines and remote control operation.

The first prototype was designed in 1951 as DB had a shortage of small shunters; four prototypes were built in 1955, each built by a different manufacturer - Krupp, Mak, Henschel and Krauss-Maffei. Each featured different engines too, however they still proved to be successful. DB opted for the Maybach GTO 6/GTO 6A engines for their production models, which started to be delivered in 1956.

Even in these early stages of the V 60's life, some models were modified with stronger frames and a higher adhesive weight increase from 48.3 to 53 tons; these heavier shunters were able to haul an extra six tons of ballast compared to the unmodified variant.

Despite this difference, they were all still classified as V 60s until all of DB's rolling stock was reclassified, dividing the V 60s into BR 260s and 261s for light and heavy variants respectively. By 1987, they were reclassified again as minor locomotives (Kleinlok), giving them their BR 360/361 grouping as they are known today.

Despite being built primarily as shunters, the V 60s were also used for transporting light freight and passenger trains, and some even saw some departmental use. A plan to replace the V 60 in the early 1980s never came to fruition, and DB set about improving the 25 year old V 60s instead.

The V 60 has a maximum speed of 60km/h (37mph), however the diesel motor needs to be pre-heated before it can run; as a result, the earlier models had to have a small coke oven and carry about 150kg of coke to heat the diesel motor, although newer V 60s used oil burners instead.
Install:
How to set the fashion in the Train Simulator: for RailWorks add-ons are installed using the built-in Utilites Add-ons Manager, located in the root folder of the game.
Press the large Install button (SET) which is to the right, and specify a location or rpk rwp-archive.
If the file is not packed in such a file, then copy the Assets folder to the root of the game and confirm the replacement.
Share / Download mod «Diesel Locomotive DB BR 361 v1.0 for TS 2017»
---
---
Download Links – Policy & Disclaimer
This document refers to links to third-party content/website, from both our website(s) and our official Social Media pages. External links are selected and reviewed when a page/post is published. However, we are not responsible for the content of external websites. If you would like us to remove a link to your website from NHS Choices, please Contact us (Admin) Note that unless you have a legal right to demand removal, such removal will be at our discretion.