Russia Map v2.0 by vladimir.loko for FS17
Author:
admin
| 23-01-2019, 11:50 |
Views:
889 |
Comments:
0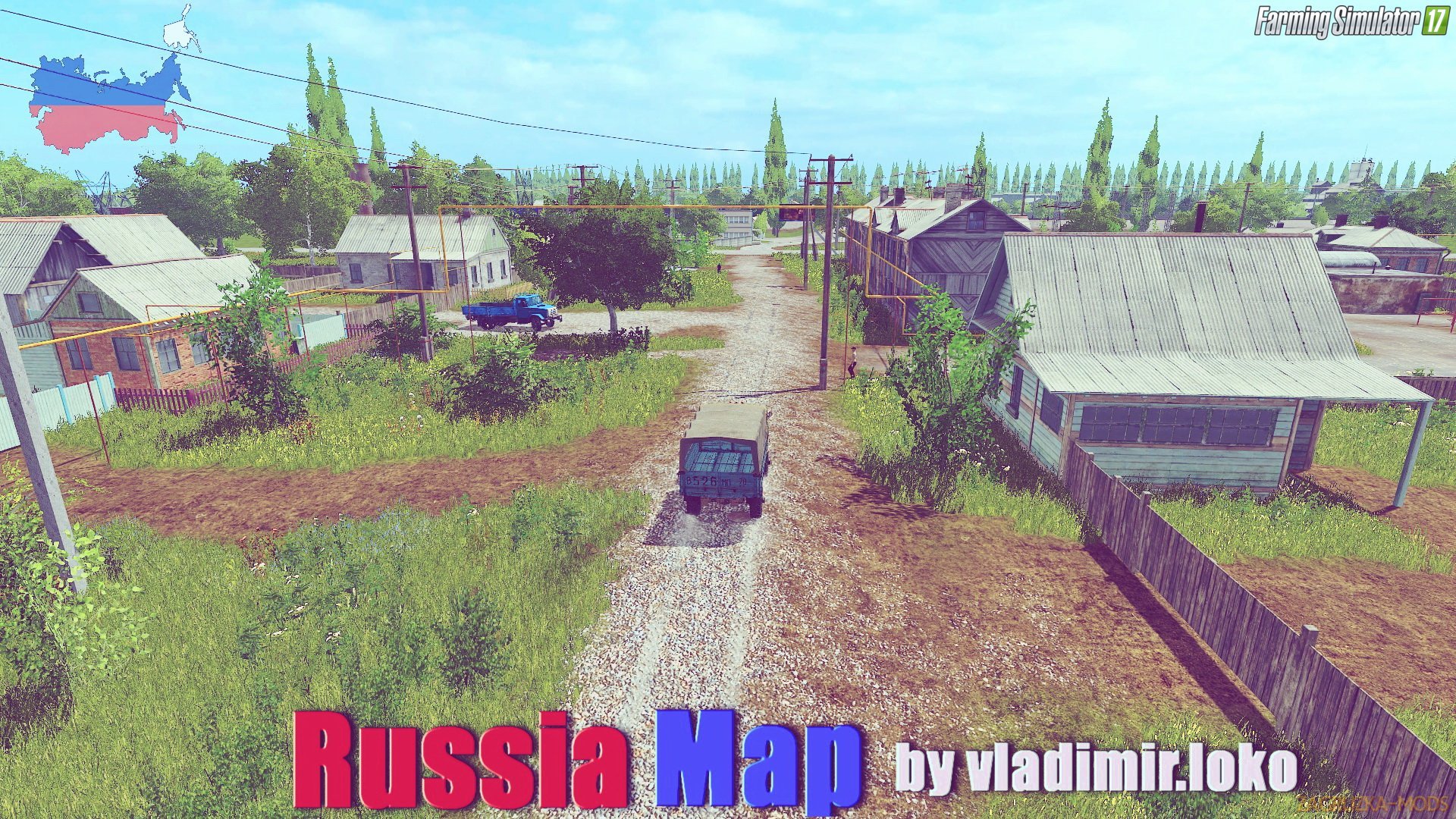 Download mod Russia Map v2.0 by vladimir.loko for FS17 | Farming Simulator 2017 game.
A great addition added to the game Farming Simulator 17 is Russia Map v1.06 by vladimir.loko for v1.5.x game version, which can be downloaded for free and without registration. You can also see other fashion from the category Maps for Farming Simulator 17 or go to the main section FS 17 games. 
Map "Russia" with the functional DC. For the construction of its carpool you need to import building materials, there are factories like in a recreation center, in addition a meat processing plant and a textile factory. Cows are sold at the ITF, pigs at STF, and sheep and chickens from the Highlanders. If the production is not enough of a resource, everything you need to buy. In the brigade you can buy all the crops. At the vegetable base you can buy potatoes, beets, carrots. At STF you can buy food for pigs, hay, straw, silage. At MTF you can buy milk.
Changes in v2.0:
1. Gas-66 at the start of the game is replaced by Zil-130 with a trailer.
2. The map has switched to new scripts. Changed the food plan for animals, carefully study the menu cards in the game.
3. Added storage of grain and current for drying and cleaning of grain. Now it is necessary to bring grain (wheat, rye, barley, rape, sunflower and corn) from the field to the storage of grain under the shed,
and then haul it to Tok (there are two of them, one dries wheat, rye, barley, the second rape, sunflower and corn) for drying and cleaning. On Toku you get: dried wheat,
dried rye, dried barley, dried canola, dried sunflower and dried corn. This is the dried grain loaded into a large, old storage (Soy carry immediately to the old storage).
Plants and a mill work only with dried grain, normal grain is used for animal feed, railway and SovTransAvto accept normal grain. Elevator accepts dried grain.
4. Seed treater now does not belong to you, you need to buy it like other plants through a real estate office.
5. Fields on the map are purchased through a real estate office.
6. In forestry, you need to buy a license for cutting down trees, otherwise a fine of 20 thousand.
7. In a construction company to order the improvement of your factories and warehouses. Until you buy a factory or warehouse it will not be in the list of improved objects.
All agencies are located in Krasnodar.
8. On the map there are new sites (displayed on the PDA). All sites need to buy, but not through the agency, but directly from the old owner.
9. Autobase also have to first buy from the old owner, and then build. At the carpool, I changed the garages to new large canopies.
10. A hangar for storing seeds and fertilizers on a farm can be demolished and in its place a large shed can be built for storing seeds and fertilizers.
11. There are 3 grain storage facilities on the map - one is located on the farm and it belongs to you, but it is open-air, you need to build awnings, and the rest are at different ends of the map (displayed on the PDA),
these warehouses and Tok1, Tok2 need to be bought through a real estate office, and then the capacity of the warehouses can be increased through a construction company.
12. A silo pit appeared on the farm (it was tested, it seems to be working fine, if you have a glitch just drive it, let it be for beauty.
13. Fixed a problem with snow and the river freezes in winter, you can ride on the ice.
Tested on game version 1.5.x
Share / Download mod «Russia Map v2.0 by vladimir.loko for FS17»
---
---
Download Links – Policy & Disclaimer
This document refers to links to third-party content/website, from both our website(s) and our official Social Media pages. External links are selected and reviewed when a page/post is published. However, we are not responsible for the content of external websites. If you would like us to remove a link to your website from NHS Choices, please Contact us (Admin) Note that unless you have a legal right to demand removal, such removal will be at our discretion.